It would not be good If you buy $200 non-certified dishwasher and it eventually creates issues regarding quality. What about to consider getting the best dishwasher 2019 for a reasonable price? I will help you choose the best out of 10 top rated models.
| Name | Price |
| --- | --- |
| EdgeStar DWP62BL | |
| Avanti DW18D0WE | |
| Bosch SHS5AVL2UC | |
| DCS DD24DV2T7 | |
| Fisher Paykel DD24DCTX9 | |
| Bosch-SPX68U55UC | |
| GE-PDF820SSJSS Profile | |
| Bosch-SHPM98W75N | |
| Miele Futura Classic | |
| Fisher Paykel DD24DCHTX9 [Best Choice] | |
Best Dishwasher 2019
There are several types to consider; portable, built in and ordinary. They are essentially needed for the long term diswashing purposes. Dishwasher size depends on how many people live at home. If you are single and rent an appartment you better go for portable and small dishwasher. But enough talk. Let's see which one is the best for you.
EdgeStar DWP62BL
Latest Price
One of the smallest portable dishwashers comes with 6 standard place settings; (dish rack, cutlery basket and cup shelf). It has a display on the upper righ corner to indicate what's going on inside. Among good news is it has three colors; black, silver and white. I would prefer silver as it doesn't show spots easily. Costing less than $300 it is considered as budget and first bad news is it sounds while working. Additionally, it has the little space inside so big plates can't fit inside. $300 price will never include extended features. So if you have large kitchen and big family, do not pick this dishwasher.
Avanti
DW18D0WE
This built-in dishwasher costing less than $450 has mid-standart specs such as integrated recessed handle (ADA compliant), electronic control rinse aid dispencer, three stage filtering system indicator light, stainless steel design fights against corrosion and stains, protected against rust nylon coated upper and lower racks, and 18 inches size that can fit a lot of dishes. It is considered as mid-range while it does not have a display.
Bosch SHS5AVL2UC
Such a creative design Bosch offered to dishwasher buyers who look for extraordinary ideas. Its creativity lies upon control panel and display which lie on the edge of the drawer. This saves a lot of space to fit more dishes. Besides this, SHS5AVL2UC got built in design like Avanti DW18D0WE but price is higher for around $130. Having 24 inches size it lets you put in a lot of dishes in 14 place settings. 5 washing cycles give you more advantages to get rid off the dirt and oil from your dishes.
DCS DD24DV2T7
Double drawer design make a user to divide dishes into 2 types: small and big. Other than that, 24 inch size help to include features like 9 wash cycles, 14 place settings, quick wash system, child lock and stainless steel body that resists against corrosion and rust. DCS DD24DV2T7 could be a premium dishwasher but not enough surprising tech it has.
Fisher Paykel DD24DCTX9
Gorgeous looking premium DD24DCTX9 dishandwasher has solid design with size of 24 inches. Sizes of both drawers are almost the same except top one has display and control panel. Into this huge dishwasher one can put many dishes. With 15 washing cycles it can give longer washing process but your dishes will come out clean and tidy. Child lock function enables doors keep locked while washing or resting. Sound is very low compared to cheaper dishwashers. This model belongs to premium territory thus having it will only create noiseless washing.
Bosch-SPX68U55UC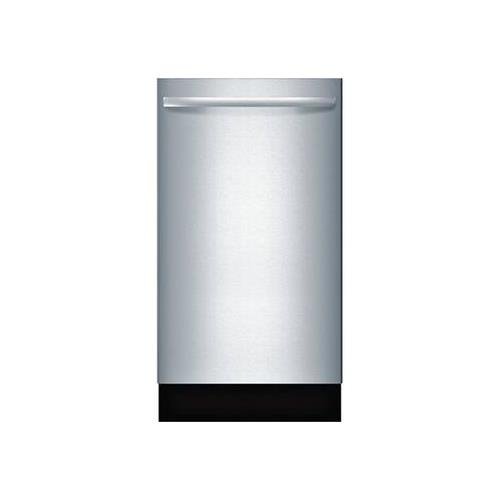 Latest Price
This model from Bosch has fully integrated control panel on the edge of the drawer just like SHS5AVL2UC. While having single drawer design SPX68U55UC has 10 place settings which allow a user to put a dish of any size. It also has stainless steel body for protection from rust and corrosion. The main feature of SPX68U55UC is a quiet operation system which makes less noise while you are in the kitchen.
GE-PDF820SSJSS Profile
Washing machine looking PDF820SSJSS Profile falls into premium area which has to offer reasonable features. Built in and stainless steel body includes typical premium dishwasher features. One issue in this model is instructions are poorly written for builging in process. But your dishes will be so shiny.
Bosch-SHPM98W75N
Just like SPX68U55UC the model SHPM98W75N has built in design and fully integrated control panel on the top of the drawer. But it is wider than SPX68U55UC. Features are considered as premium such as 6 washing cycles, stainless steel body, quiet function and 24 inch size which fits a lot of dishes. If you are built in dishwasher lover you could consider buying SHPM98W75N.
Miele Futura Classic
With a fully integrated function and stainless steel body this dishwasher looks as typical premium. However, German made dishwasher has enough big body to store a lot of things inside. Design is also not built in. Black display and control panel are on the edge of the drawer. Handle is big and so nicely located which enables easy pulling. Noise is surely low.
Fisher Paykel DD24DCHTX9 [Best Choice]
I chose this model as the best. Here is why: 24 inches size which is the biggest in typical premium area, quick wash feature for rushing users, double drawer with 14 place settings, two cutlery buskets, water softener and quiet regime. Stainless steel body is already within. Even though price is more than $1350 its features make any premium lover satisfied.
Wrapping up
I have chosen only the best dishwashers by listing top 10 most durable, noiseless, efficient and powerful. Thus I chose the one out of premium models as they offer seriosly great features. You may choose any one of them according to your budget and preference. I strongly recommend to pick from premium
Buying Guide
At the point when your dishwasher passes on, you may rapidly come to miss this efficient technology. Stacking a dishwasher and squeezing begin can spare you once again 230 hours per year, contrasted with washing and drying by hand, as indicated by Energy Star. Here's the way to locate the best dishwasher for your financial plan and needs.
Ordinary inherent dishwashers are 24 inches wide. They offer for $225 to $2,200. You'll see well finished 100 models in our dishwasher appraisals, alongside a couple of dishwasher drawers, for $1,000 and up. Whatever you pick, consider utilizing a cleanser that tidied up in our tests to take full advantage of your machine.
Dishwashers are accessible in white, bisque, dark, slate, stainless, and dark stainless. Dishwashers once looked fundamentally the same as, however no more. A few producers have streamlined the look, moving the controls to the highest point of the entryway so they're covered up when the entryway is shut.
On a few models, the brand logo is likewise gone, and a recessed pocket handle replaces a bar. With the brand name and bar handle gone, makers understood that their stainless dishwashers would look great in a kitchen beside stainless machines from different brands, thus did customers.
Set The Price
The width and profundity of a traditional dishwasher is planned for a hole estimating 24 x 24 inches. Be that as it may, fitting in your new dishwasher could be a test in the event that you've tiled the floor or revamped your counters, changing the stature of the cavity. So before you pick, measure your space and approach the retailer for the full stature go (and bear in mind to represent alteration of the leveling feet).
When shopping, investigate how the dishwasher's inside is arranged—the dividing of tines, and the situation of the flatware crates and racks. You require a dishwasher that works for how you cook and eat.
Dishwashers for $500 or Less
In spite of the fact that they aren't the best entertainers in our tests, you can in any case get a dishwasher that is great at cleaning, and great or even incredible at drying. A few models in this value run presently have a dirt sensor, which alters the process duration's and water use to the heap's dirt level, enhancing water proficiency. Furthermore, some even have a stainless inside. So what's the catch? The highlights are essential: Adjustable racks and stainless steel tubs are not guaranteed. Wash times are regularly long, and most dishwashers in this value extend are moderately boisterous.
Dishwashers for $600 to $900
You can get a calmer machine, magnificent cleaning, and advantageous highlights that may make it worth spending more, for example, customizable racks and adaptable flatware spaces, alongside a stainless tub, which tends to oppose recolors superior to plastic. A dirt sensor is guaranteed.
Dishwashers for $1,000 or More
The styling changes, and the dishwashers are completely stacked. You never again need to pick between valuable specs. Inventive features, for example, extraordinary wash zones for vigorously filthy things, and WiFi network—are included.
Drawers
They regularly have two little, stacked drawers that you can utilize at the same time or independently. In any case, they're costly, and the models we tried haven't executed also in general as most customary dishwashers. Limit is moderately little, constraining the amount you can wash on the double.
Dishwasher Care
If you have a vast family, cleaning up the dishes after supper is an errand that you most likely attempt to postpone until the latest possible time; yet it's one that is got the opportunity to be finished. This is the place a dishwasher turns into an advantageous speculation.
Dishwashers spare from the issue of standing over the sink and clean your grimy pots and container, however don't be tricked in supposing you don't have to do anything with the exception of load up your dishwasher and turn it on.
Like all family unit appliances, dishwashers must be cared for to guarantee they continue running easily. It's anything but difficult to fall into the propensity for disregarding your dishwasher, however this can prompt issues, for example, blockages and breaks over the long haul.
In case you're thinking about how to best look after your dishwasher, here are a couple of helpful hints:
Rub before washing
While it's helpful to just place your dishes straight into the dishwasher after you've wrapped up, it's imperative that you rub your plates previously doing as such.
Nourishment flotsam and jetsam from your plates can make your dishwasher wind up obstructed, making cleaning less compelling. Additionally, they can stall out to dishes once the cycle is finished, abandoning you with the activity of handwashing them.
Try not to stuff
It can be enticing to fill your dishwasher to the overflow by stacking mugs and bowls over each other, particularly on the off chance that you have a major heap of messy dishes, however this isn't exceptionally reasonable.
Pressing your dishwasher too firmly implies that pots and container won't get an intensive clean and you're probably going to find that once the cycle has completed, some haven't been cleaned by any means.
It's a superior plan to easily fill the dishwasher and after that wash any residual mugs and plates by hand.
Run high temp water before beginning the dishwasher
A helpful trap to know is that the first occasion when you begin your dishwasher cycle, the water will be chilly, so run your heated water spigot previously until the point that the water is hot to the touch.
Along these lines, your first dishwasher cycle will be hot, as opposed to frosty. Furthermore, this is an essential tip to hold up under at the top of the priority list amid the winter months when it takes more time for the water to warm up.
Clean the trap and seals
In spite of the fact that it's your dishwasher that does the cleaning, your dishwasher additionally should be cleaned now and then.
After some time, sustenance bits and grime will begin to develop and could prompt issues with cleaning should you abandon it unattended.
Underneath the lower sprayer at the base of your dishwasher is a plate that is normally removeable. After taking the plate out, you'll discover the sustenance that didn't exactly make it out of the deplete.
On the off chance that your plate can be evacuated completely, wash it in the sink and utilize a paper towel to gather any sustenance bits from the dishwasher trap.
You should likewise clean the elastic seals of your dishwasher at regular intervals, since these can likewise gather grime and microorganisms. Just wiping them with a fabric will keep them in tip-top condition.